Dear Customer, By purchasing SPRINGER AKTIV insoles, you have acquired a premium-quality product. To ensure that you benefit from it for a long time, we ask you to please observe the following instructions.
Only ever insert your insole into suitable shoe types that we recommend for the respective model.
Always wear the insoles with stockings, and, if possible at home as well. Always check your feet for redness, pressure points and blisters. An inappropriate insole can cause injury and tissue damage.
Take your SPRINGER AKTIV insoles out of your shoes every evening to air them out.
The high-quality materials are sensitive to heat. Please avoid direct heat sources such as heaters, strong sunlight, dryers or microwaves. Air-dry your insoles.
If you use cleaning sprays, discoloration may occur in individual cases.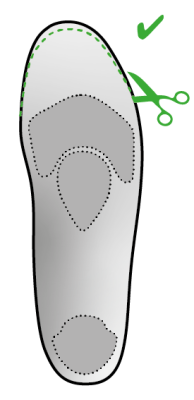 Modify insole at the front edges only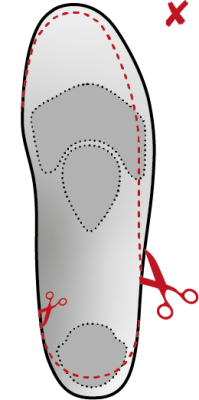 Do not cut into the modules or the rear foot area
If your insole does not fit 100% into your shoe, you can shape it in the forefoot area using household scissors.
IMPORTANT: Please do not cut into the modules! This will cause them to lose their effectiveness and traction (see picture left).
For the hygienic care of synthetic fiber and microfiber covers, we recommend cleaning them with a damp cloth. In case of heavy soiling, hand washing at 30  C is possible, but never in the washing machine!
Never wash leather insoles, but only clean them with a damp cloth. Leather-covered insoles should be removed from the shoes after use for airing. Occasionally apply colorless leather conditioning cream to keep the leather supple.